In the past, every time I wanted to donate clothes, books, or even shoes, I always had to open up multiple tabs on my browser to (a) find a list of NGOs, and (b) see how far away (or close) it was to my home or my office.
I wanted the convenience of being able to drop-off my clothes either on my way to work or on my way back home.
However, finding the right NGO based on this criteria was always a challenging and time consuming task.
Furthermore, over the course of the past 2.5 years of running Jireh's Hope, I received a tonne of messages on the Jireh's Hope FB page from people that were looking to donate their clothes, and pre-loved items.
I'd try my best to find the best fit for them but I always felt like I was missing the mark. I'd often just end up redirecting them to NGOs like The Salvation Army Malaysia even though it was far away from them. Sometimes, I'd even miss replying them.
Was this the most effective way of doing things? I don't think so.
That's why, I spent the last couple of weeks writing code after my day job with the hope of tackling this issue. I did this to solve the problem both for myself and the countless others that want to donate their clothes & pre-loved items but don't know where to go.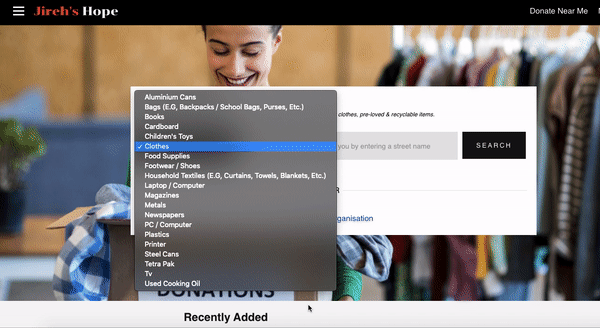 Image: Donate Near Me Home
The end result – Donate Near Me.
Donate Near Me lets you search for NGOs and donation boxes by entering a street name. On the backend, I use a simple algorithm to filter out my current list of NGOs and donation boxes, and I display a list sorted by how close they are to you.
Here's how it works:
1. Select the type of item you'd like to donate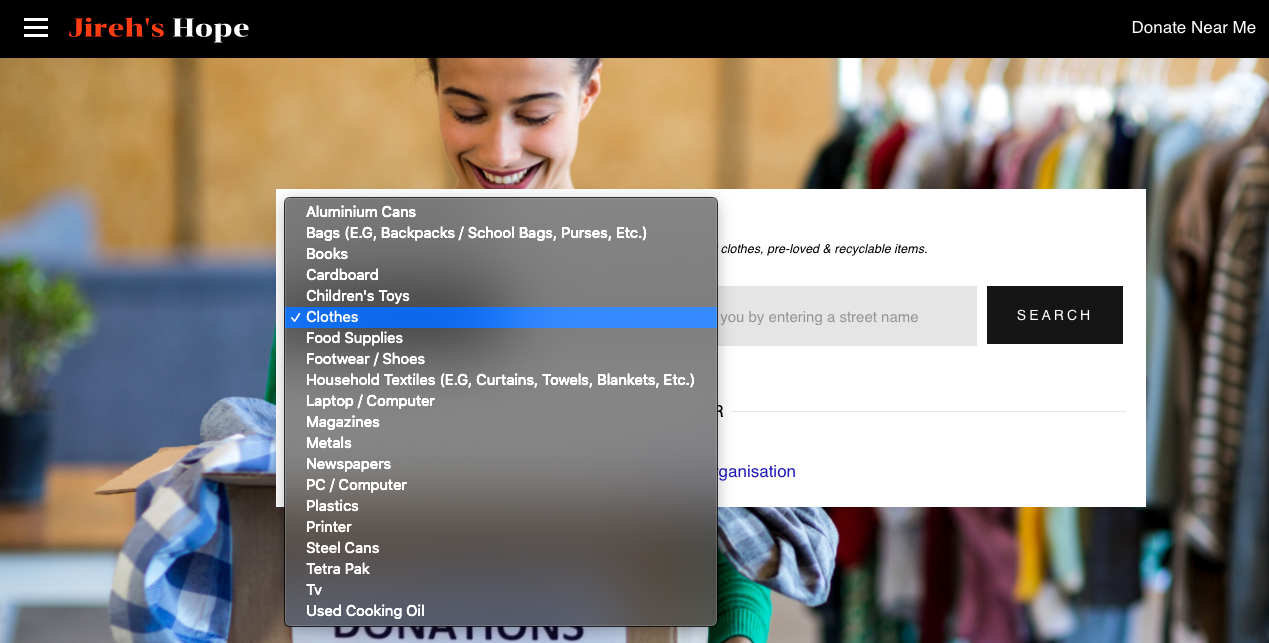 Image: Donate Near Me Home Page
Click on the dropdown on the left, and pick the item that you'd like to donate. This way, you'll only view NGOs in your area that accept the items that you're looking to donate.
2. Enter a street name...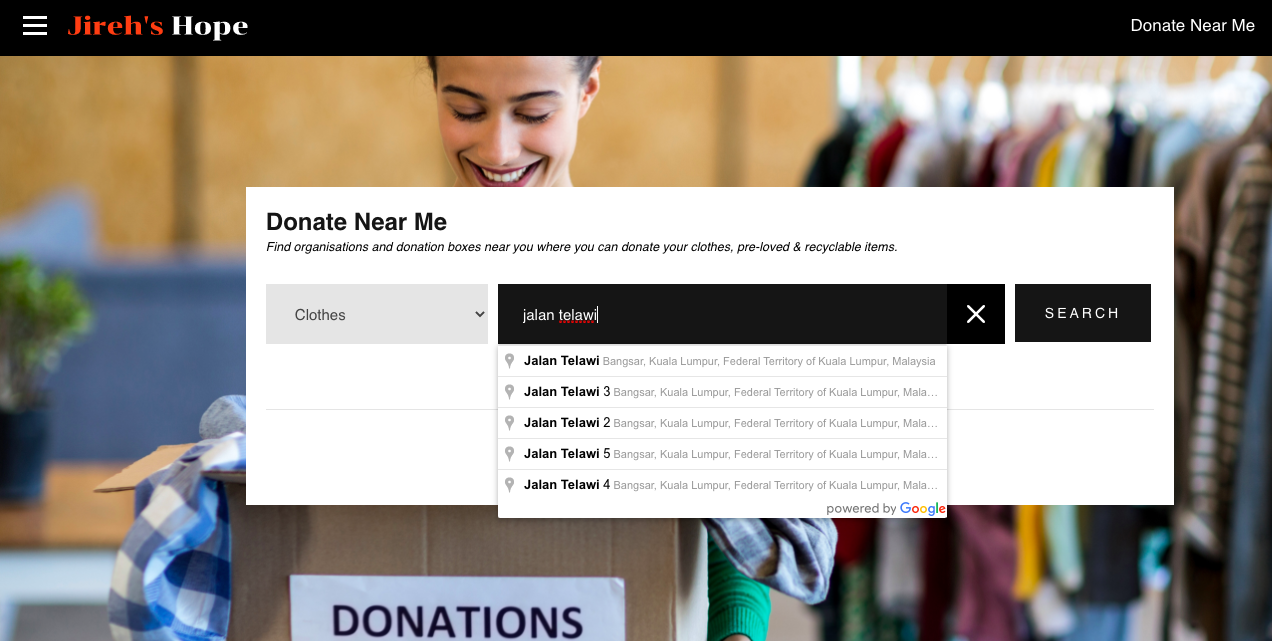 Image: Donate Near Me Home Page
... and then press 'Search'.
Voila! This is all that you need to do. The app will then do its magic behind the scenes to show you NGOs that fit your criteria.
3. Scroll down to see the results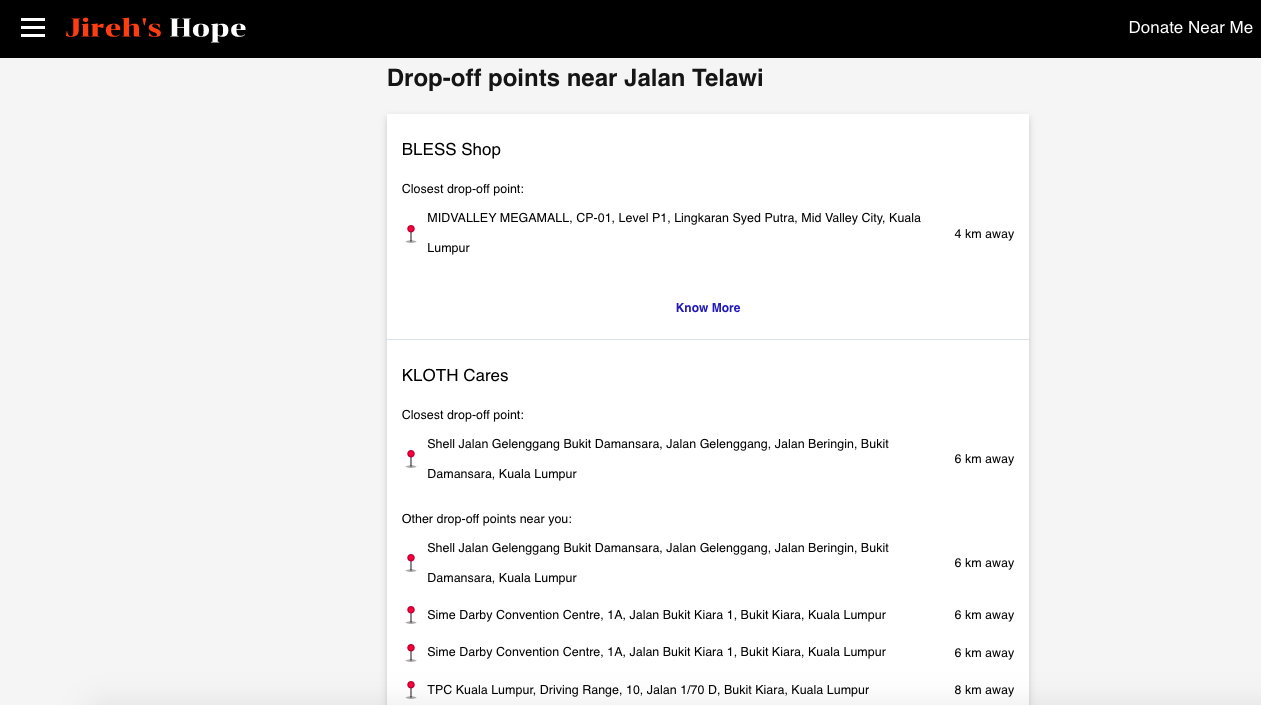 Image: Donate Near Me Home Page
Your search results would be shown right under the top section of the Home Page. All you need to is scroll down a slight bit.
The first result would always be the NGO that's closest to your location, and the rest would be slightly further away. Each result in the list would show you the NGO's closest drop-off point as well as other drop-off points they may have in the area.
This way, you can pick the one that's most convenient for you.
4. Click on a result to see the NGO's profile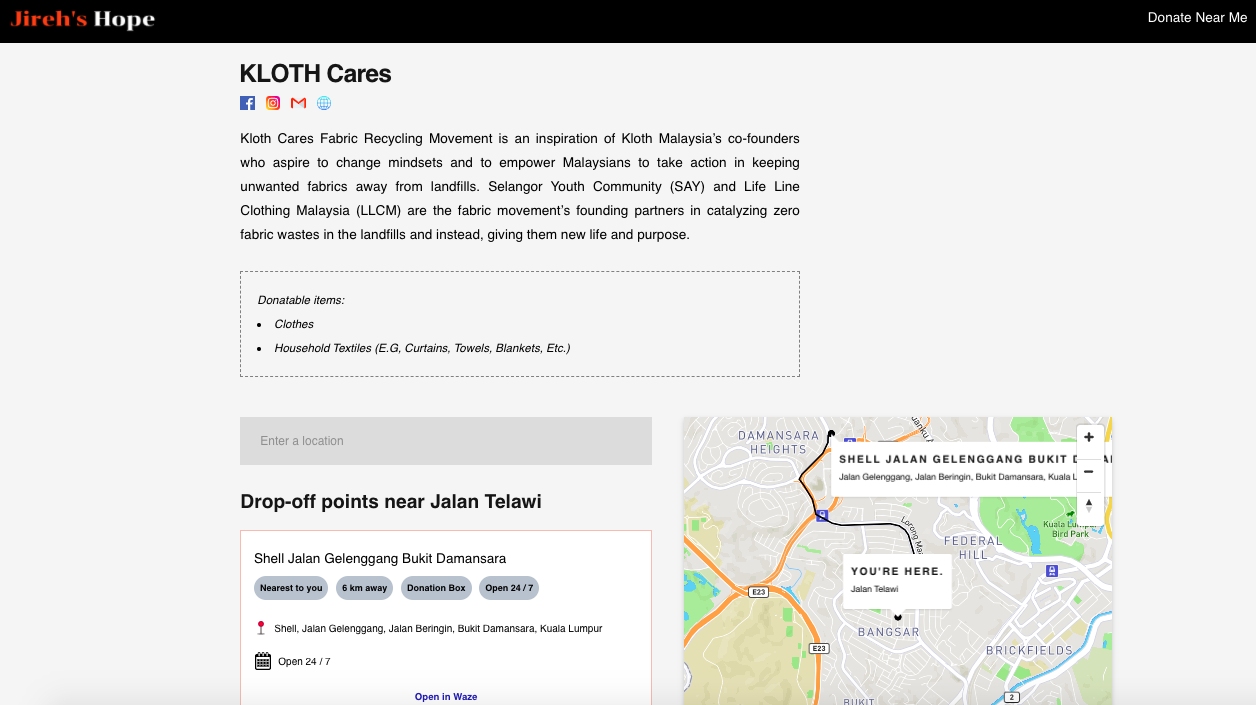 Image: Donate Near Me Profile Page
If a certain NGO piques your interest, you can click on it to read more about what the NGO does, and the different items they accept.
The NGO profile also lists out all its drop-off points, and it displays this info on the map to the right. This way you can roughly visualise where the drop-off point would be located.
It's just that simple.
One caveat, Donate Near Me is still pretty new. At the present moment, I only have 190 drop-off points (roughly 20 NGOs) in my list. Most of these drop-off points are spread around the Klang Valley.
My intention is to support more cities, states, and hopefully even countries in the future. If you know of any NGOs or drop-off points that you don't see in the app, don't hesitate to drop me an email at ajay@jirehshope.com or message me on the Jireh's Hope FB page. I'd really appreciate the support.
If you'd like to take Donate Near Me for a spin, click here or you can always visit https://donatenear.me.
Looking forward to hearing your feedback!