Living in New York? Looking to donate your clothes? Well, here are 5 notable places that you could donate your pre-loved clothes to.
1. Goodwill NYNJ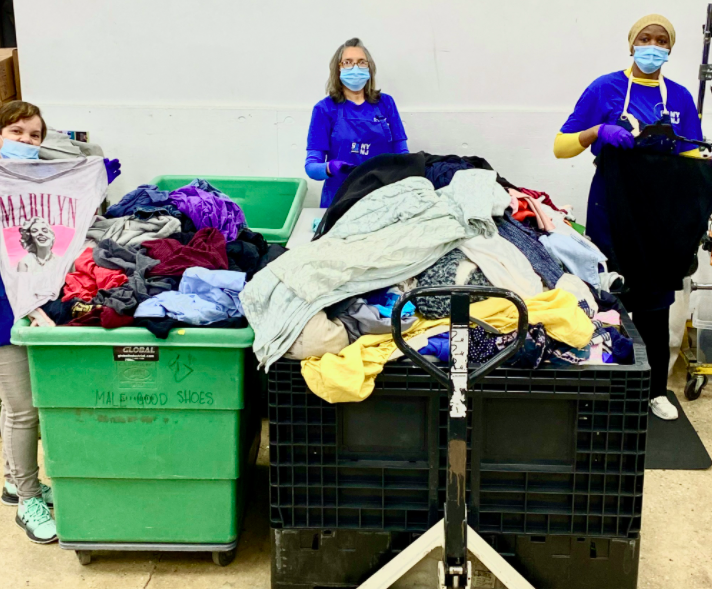 Image Credit: The Goodwill NYNJ Facebook Page
You can donate your clothes to any one of the Goodwill NYNJ's stores, donation bins, Goodwill's Donation Xpress centers, and Goodwill's donation drives.
You can click this link here to find a Goodwill NYNJ store near you, and this link to find a Goodwill NYNJ public donation bin as well.
They also provide a convenient pick-up service if you're unable to get to any one of their physical locations.
Goodwill NYNJ will sell the clothes and other items you donate through their network of stores. The proceeds from the sales would be used to support their programs for individuals with disabilities and the ones from marginalised backgrounds.
The empower these individuals to gain independence through the power of work.
Additionally, you'll also be doing the environment some good by donating to Goodwill NYNJ. In last year alone, Goodwill helped recycle and refashion over 43 million pounds of pre-used clothing and goods, thus keeping them far away from New York and New Jersey landfills.
2. The Salvation Army Thrift Stores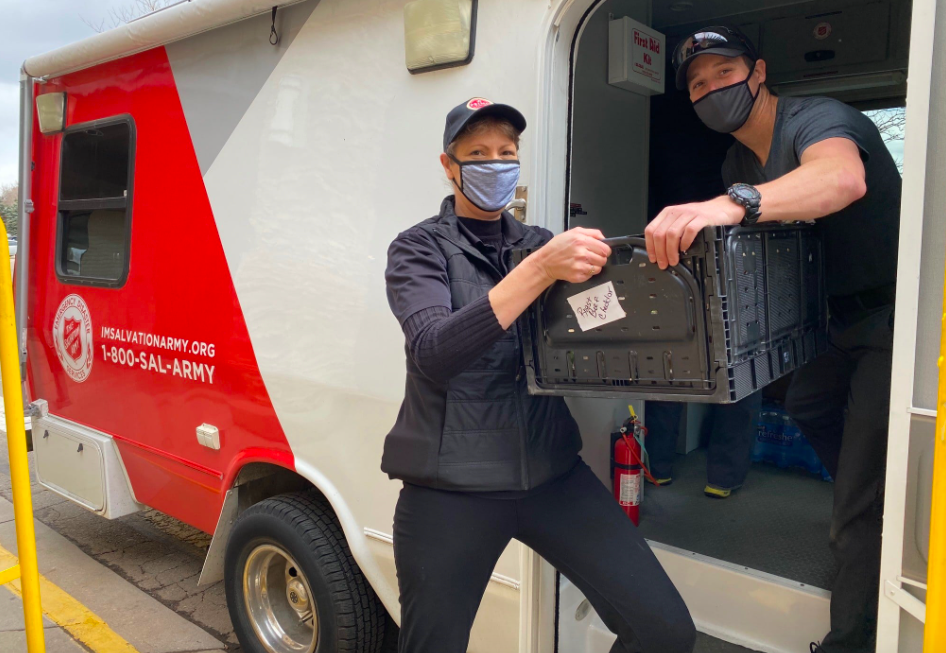 Image Credit: The Salvation Army USA Facebook Page
When you donate your clothes and pre-loved items to The Salvation Army, you're supporting their efforts to help individuals that are struggling with drugs and alcohol find help, hope and a second chance at life.
You can see videos of the people that have been impacted by The Salvation Army's efforts on their website.
Other than donating clothes, there are other items you could donate to support The Salvation Army's great work. The Salvation Army's website mentions that they accept donations of furniture, automobiles, household goods, appliances, etc. You can click here to view their full list of acceptable donations.
To make life easier, The Salvation Army has a helpline (1-800-SA-TRUCK / 1-800-728-7825)that you could call to get more info on how to donate clothes.
They also have helpful tools on their website to help you find the nearest drop-off location, thrift store, and to also schedule a free pickup. You can simply enter your zip code, and it'll connect you to the right service near you.
3. All Of Us Clothing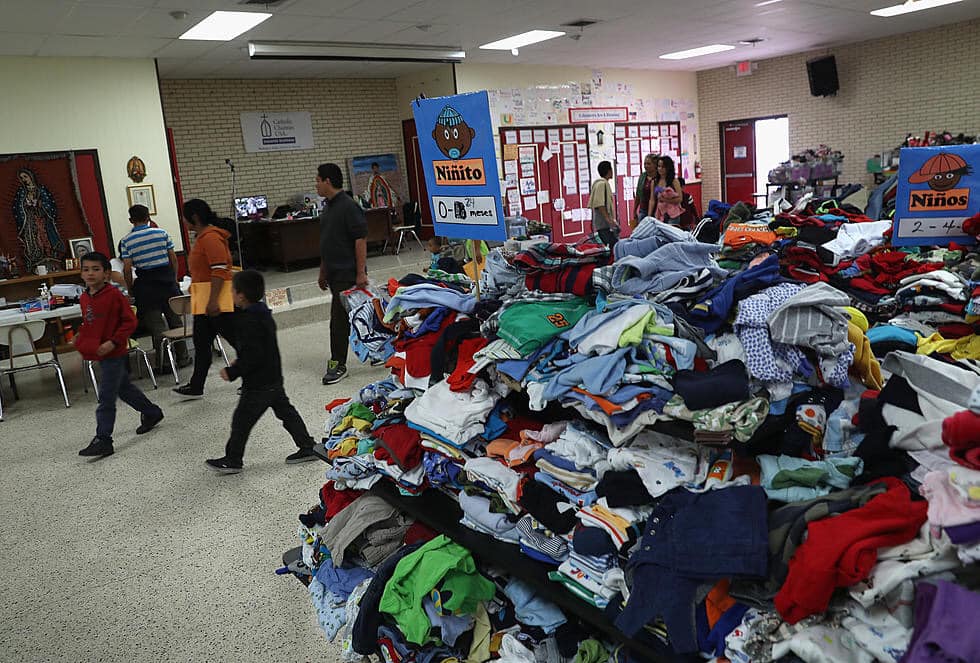 Image Credit: All Of Us Clothing Facebook Page
If you're from Brooklyn, Queens or Manhattan, you could support All Of Us Clothing's efforts to help needy families simply by donating your clothes.
All Of Us Clothing is partnered up with various charities, and they're focused on helping families in need. They also work to provide food and shelter for animals in their area of service.
When you donate your clothes, shoes, handbags, etc., All Of Us Clothing will distribute it to their various partner charities depending on the need.
All Of Us Clothing also offers a free pick up service in Brooklyn, Queens and Manhattan. No minimum or maximum limits for the pick up.
You can simply text your full address or call All Of Us Clothing at 516-309-9040, and they'll arrange a pickup within 3 days of your request.
Check out their website to get more info about All Of Us Clothing, and how they work.
4. Bottomless Closet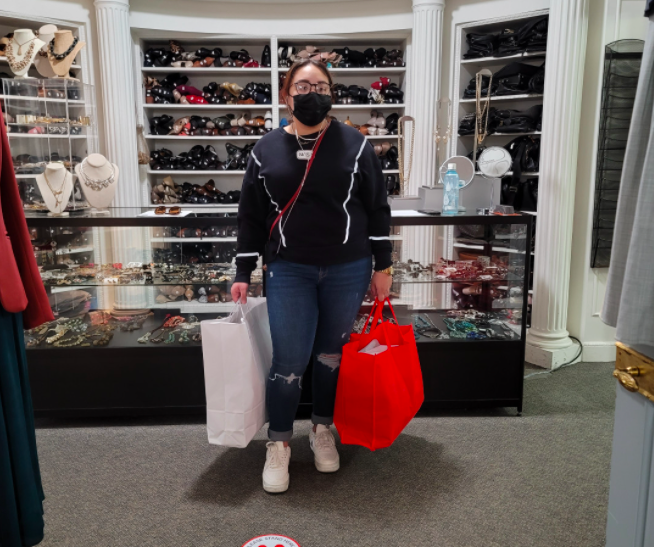 Image Credit: The Bottomless Closet NYC Facebook Page
Looking to donate pre-loved women's professional clothing? If yes, Bottomless Closet would be a great fit for you.
They accept business suits, blouses, tops, sweaters, and other accessories. You can click here to view the full list of items that they accept.
Bottomless Closest empowers women with access to valuable tools and resources to enter the workforce and succeed.
Bottomless Closet helps women prepare for job interviews, start the new job, and help them begin their journey to self-sufficiency.
They do this by pairing each of the women they work with to a volunteer career coach. The career coach will kickstart The Bottomless Closet Experience at the boutique where they help women pick out professional clothing, shoes, and accessories.
After this, the volunteer career coach will then help the individual draw up and print out a quality resume that they can then take home.
Additionally, Bottomless Closet also help with interview prep, workshops, etc. You can read more about the end-to-end process on their website.
Do note that the Bottomless Closet team is currently working remotely due to Covid-19, and so they're not accepting any in-person donations at the time of this writing. However, you can always mail out your donations to them.
You can drop them an email at info@bottomlesscloset.org or call them at 212-563-2499 ext.17 for more info on donating clothes.
5. The Sharing Place Thrift Store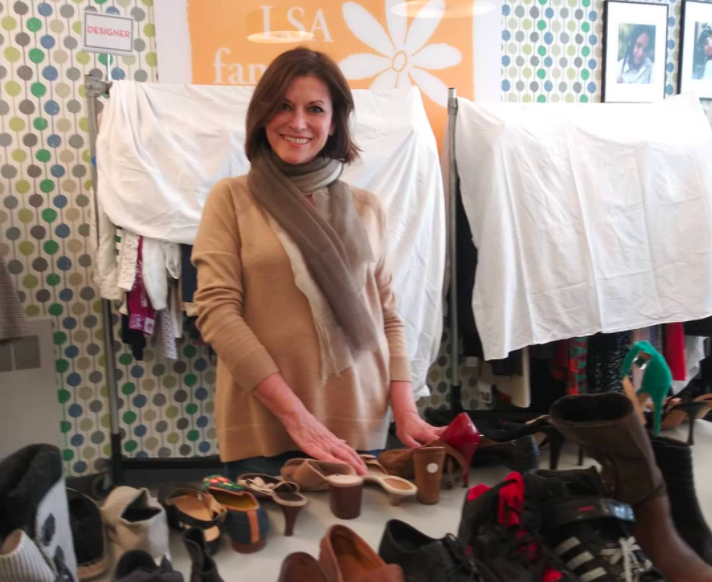 Image Credit: The Sharing Place Facebook Page
You can make a difference in the lives of individuals and families in crisis living in the East Harlem area by donating your clothes to The Sharing Place Thrift Store.
Outside of the pandemic, you can drop your items off at The Sharing Place Thrift Store, and you could also arrange a pick up with their team.
However due to the current pandemic, there's a waiting list for the pick-ups. You could join the waitlist by emailing them at sharingplace@lsafhs.org with your address, phone number, and number of bags/boxes you'd like to donate.
Your donated clothes are sold at The Sharing Place Thrift store. The proceeds from the sales go towards providing free emergency goods to individuals and families in crisis when they're referred by a social worker.
Furthermore, The Sharing Place Thrift Store is an extension of the LSA Family Health Service. So the funds generated from the sales also go towards supporting the LSA Family Health Service's activities as well.
The LSA Family Health Service is a non-profit that provides food pantry, health, education, and family support services to families not just in East Harlem but the surrounding communities as well.
Know any other NGOs in New York that accept donations?
Drop me a message at the Jireh's Hope FB page or email me at ajay@jirehshope.com, and I'll add them to the list 😄
Also On Jireh's Hope: 8 Volunteering Tips for Beginners
*Feature Image Credit: Freepik
P.S: Always call or email the non-profit that you'd like to donate your items to before sending or dropping off your items, especially during the Covid-19 pandemic.